22.4

Reference: The Right Mouse Button Menu

The right mouse button anywhere on a canvas will bring up a diagram specific menu. From here all of the operations are available, including those to save, print and export the file, to cut and paste, to select various objects or regions, to group objects and to layer objects, to operate on objects with various tools, and to edit the object properties and layout.

The middle mouse button will bring up an object-specific menu. Double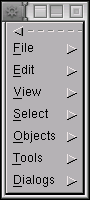 % clicking an object will bring up the properties editor for that object.
---
Your donation will support ongoing availability and give you access to the PDF version of this book. Desktop Survival Guides include Data Science, GNU/Linux, and MLHub. Books available on Amazon include Data Mining with Rattle and Essentials of Data Science. Popular open source software includes rattle, wajig, and mlhub. Hosted by Togaware, a pioneer of free and open source software since 1984. Copyright © 1995-2022 Graham.Williams@togaware.com Creative Commons Attribution-ShareAlike 4.0